Type ZJ High Head Slurry Mining Pumps
1. Large Capacity, High Head
2. Lower abrasion rate, long life for wet parts.
3. Short delivery time.


Product Description

The ZJ series Slurry Pumps , which are created by Shijiazhuang Boda Industrial Pump Co.,Ltd, is a new generation anti-wearenergy saving, slurry pump.The ZJ series pumps used international advanced solid-liquid two-phase flow theory and were designed using the Minimum-Wear Principle. The flow parts of this pumps are suitable for the flow of state media for its set shape,which reduces hydraulic loss of eddy and impact,both in pump and along the pipeline;so reduced friction of flow parts,lower noise and vibration of the pump translates into improved hydraulic efficiency.
The ZJseries pumps are cased in hard-alloy which is a high anti-wear and high anti-corrosive impact resistance material,which means the pump will have a longer service life.Inaddition,this series pumps used an automatic reduced pressure system to avoid liquid leakage.
The ZJ series slurry pumps are widely used in mining,metallurgy,power,coal and building material sectors. The ZJ series pumps are suitable for handling abrasive and corrosive solids-bearing slurry with maximum concentrations of wt.45%(ash) and wt.60%(ore).
We have all kinds of ZJ series slurry pumps,all of which can be made of directly driven(DC),directly driven via hydraulic coupling(HC),belt driven,and they can be operated in tandem and parallel positions according to the requirements of the customer.
Technical Data:
| | | | | | | | | |
| --- | --- | --- | --- | --- | --- | --- | --- | --- |
| Model | Power(KW) | Q(m³/h) | H(m) | n(r/min) | η% | NPSH(m) | Max Particle size (mm) | Weight(kg) |
| 350ZJ-F100 | 220-560 | 860-2339 | 37-63 | 490-590 | 77.6 | 4.4-5.8 | 96 | 5465 |
| 300ZJ-A100 | 185-450 | 464-1826 | 15.3-65.2 | 300-590 | 81.1 | 3.0 | 88 | 5265 |
| 300ZJ-A95 | 185-400 | 441-1735 | 13.8-58.8 | 300-590 | 78.1 | 3.0 | 88 | 5220 |
| 300ZJ-A90 | 185-560 | 505-1844 | 21.2-79.9 | 400-730 | 82.8 | 3.9 | 85 | 5005 |
| 300ZJ-A85 | 160-450 | 477-1742 | 19-71 | 400-730 | 79.8 | 3.8 | 85 | 4965 |
| 300ZJ-A70 | 185-630 | 635-2333 | 16-77 | 490-980 | 80.4 | 3.9 | 92 | 3560 |
| 300ZJ-A65 | 160-500 | 589-2166 | 14-66 | 490-980 | 77.4 | 3.7 | 92 | 3531 |
| 300ZJ-A56 | 75-250 | 395-1560 | 9.7-46 | 490-980 | 80.9 | 3.5 | 96 | 3030 |
| 250ZJ-A103 | 250-710 | 402-1573 | 30-110 | 400-730 | 74.5 | 2.8 | 69 | 5085 |
| 250ZJ-A96 | 185-560 | 403-1466 | 25-94 | 400-730 | 77.8 | 3.5 | 69 | 5035 |
| 250ZJ-A90 | 160-450 | 378-1374 | 22-82 | 400-730 | 73.8 | 3.4 | 69 | 4980 |
| 250ZJ-A85 | 220-800 | 376-1504 | 30-129 | 490-980 | 77 | 3.5 | 76 | 4530 |
| 250ZJ-A83 | 220-800 | 367-1469 | 29-123 | 490-980 | 75.5 | 3.5 | 76 | 4514 |
| 250ZJ-A80 | 200-710 | 354-1416 | 27-115 | 490-980 | 73.5 | 3.4 | 76 | 4490 |
| 250ZJ-A78 | 185-630 | 415-1796 | 21-103 | 490-980 | 75 | 3.2 | 76 | 4474 |
| 250ZJ-A75 | 132-560 | 300-1480 | 20.8-98 | 490-980 | 77.5 | 3.0 | 72 | 3480 |
| 250ZJ-A73 | 132-500 | 292-1441 | 20-92.4 | 490-980 | 76.5 | 3.0 | 72 | 3466 |
| 250ZJ-A70 | 110-450 | 280-1381 | 18-85 | 490-980 | 75 | 2.9 | 72 | 3446 |
| 250ZJ-A68 | 110-450 | 272-1342 | 17-80 | 490-980 | 73.5 | 2.7 | 72 | 3432 |
| 250ZJ-A65 | 90-315 | 299-1249 | 15-71 | 490-980 | 76.9 | 3.0 | 72 | 3020 |
| 250ZJ-A63 | 90-315 | 200-1211 | 14-67 | 490-980 | 76 | 3.0 | 72 | 3008 |
| 250ZJ-A60 | 75-560 | 276-1153 | 13-61 | 490-980 | 73.9 | 2.8 | 72 | 2991 |
| 200ZJ-A85 | 160-560 | 221-907 | 32-133.7 | 490-980 | 70.5 | 2.8 | 54 | 4110 |
| 200ZJ-A75 | 110-355 | 225-900 | 23-103 | 490-980 | 74 | 3.0 | 56 | 3070 |
| 200ZJ-A73 | 110-355 | 219-876 | 21.6-98 | 490-980 | 73.1 | 3.0 | 56 | 3056 |
| 200ZJ-A70 | 90-315 | 205-976 | 19.4-86 | 490-980 | 75.6 | 2.8 | 56 | 2465 |
| 200ZJ-A68 | 90-315 | 199-948 | 18.3-82 | 490-980 | 74.6 | 2.8 | 56 | 2453 |
| 200ZJ-A65 | 75-250 | 235-950 | 16.5-72 | 490-980 | 79.6 | 2.5 | 62 | 2323 |
| 200ZJ-A63 | 75-250 | 228-921 | 15-68 | 490-980 | 78.6 | 2.5 | 62 | 2311 |
| 200ZJ-A60 | 75-185 | 218-870 | 14-62 | 490-980 | 83.5 | 2.5 | 62 | 2223 |
| 200ZJ-A58 | 55-185 | 211-841 | 13-58 | 490-980 | 82.5 | 2.5 | 62 | 2214 |
| 150ZJ-A71 | 75-220 | 142-552 | 22-94 | 490-980 | 69.8 | 2.4 | 48 | 2263 |
| 150ZJ-A70 | 55-185 | 93-401 | 20-91 | 490-980 | 62.3 | 2.0 | 37 | 2245 |
| 150ZJ-A65 | 75-200 | 150-600 | 17-76 | 490-980 | 70.8 | 2.5 | 48 | 2223 |
| 150ZJ-A63 | 55-185 | 146-582 | 16-71 | 490-980 | 69.8 | 2.5 | 48 | 2211 |
| 150ZJ-A60 | 45-160 | 135-550 | 15-64 | 490-980 | 75.9 | 2.5 | 48 | 2203 |
| 150ZJ-A58 | 37-132 | 131-532 | 14-59.3 | 490-980 | 74.9 | 2.5 | 48 | 2033 |
| 150ZJ-C58 | 37-110 | 134-596 | 12.8-61 | 490-980 | 69 | 2.0 | 75 | 2063 |
| 150ZJ-A57 | 37-110 | 95-427 | 13-56.3 | 490-980 | 67.8 | 1.8 | 32 | 2023 |
| 150ZJ-A55 | 37-110 | 124-504 | 12.3-53.4 | 490-980 | 73 | 2.3 | 48 | 2019 |
| 150ZJ-A50 | 30-75 | 115-460 | 9.5-43 | 490-980 | 76.8 | 2.5 | 48 | 1735 |
| 150ZJ-A48 | 22-75 | 111-442 | 8.7-39.7 | 490-980 | 75.8 | 2.5 | 48 | 1728 |
| 150ZJ-C42 | 30-132 | 142-550 | 12-63 | 700-1480 | 77.1 | 2.2 | 69 | 1605 |
| 100ZJ-A50 | 30-160 | 85-360 | 20-100 | 700-1480 | 69.6 | 2.5 | 34 | 1475 |
| 100ZJ-A46 | 30-132 | 79-331 | 17-85 | 700-1480 | 67.6 | 2.3 | 34 | 1461 |
| 100ZJ-A42 | 22-90 | 66-275 | 15-70.8 | 700-1480 | 71 | 2.5 | 35 | 1075 |
| 100ZJ-A39 | 18.5-75 | 61-255 | 12.6-61 | 700-1480 | 69 | 2.4 | 35 | 1064 |
| 100ZJ-B42 | 22-90 | 83-365 | 12.7-67 | 700-1480 | 71.6 | 2.5 | 40 | 1085 |
| 100ZJG-B42 | 15-75 | 45-205 | 12.6-70 | 700-1480 | 63.2 | 1.8 | 48 | 1080 |
| 100ZJ-A36 | 15-55 | 61-245 | 9.7-50 | 700-14802 | 71.6 | 2.0 | 32 | 1010 |
| 100ZJ-A33 | 11-45 | 56-225 | 8.2-41.6 | 700-1480 | 69.6 | 1.8 | 32 | 1003 |
| 80ZJ-A52 | 30-160 | 51-242 | 22-110 | 700-1480 | 56.3 | 2.1 | 21 | 1465 |
| 80ZJ-A42 | 18.5-75 | 61-204 | 14-70 | 700-1480 | 66.7 | 2.5 | 24 | 1053 |
| 80ZJ-A39 | 15-55 | 57-189 | 12-61 | 700-1480 | 65 | 2.4 | 24 | 1042 |
| 80ZJ-A36 | 11-45 | 46-190 | 9.6-51 | 700-1480 | 67.7 | 2.5 | 24 | 980 |
| 80ZJ-A33 | 7.5-37 | 43-174 | 8.0-43.2 | 700-1480 | 65.7 | 2.3 | 24 | 973 |
| 65ZJ-A30 | 4-15 | 23-79 | 7.4-34.8 | 700-1460 | 63.5 | 2.0 | 19 | 504 |
| 65ZJ-A27 | 3-11 | 20-71 | 6-28.2 | 700-1460 | 61.5 | 1.8 | 19 | 500 |
| 50ZJ-A50 | 22-90 | 27-111 | 22.3-110 | 700-1480 | 45 | 3.0 | 13 | 1378 |
| 50ZJ-A46 | 15-55 | 23-94 | 17-86 | 700-1480 | 44.7 | 1.4 | 14 | 1082 |
| 50ZJ-A33 | 4-18.5 | 12-54 | 7.7-43 | 700-1480 | 42 | 2.9 | 13 | 537 |
| 40ZJ-A19 | 1.5-11 | 8-35 | 12.8-57 | 1430-2930 | 58.8 | 1.3 | 11 | 173 |
| 40ZJ-A17 | 0.55-7.5 | 4.5-23 | 9.4-44.6 | 1400-2900 | 52.4 | 2.5 | 11 | 121 |
Structure Drawing: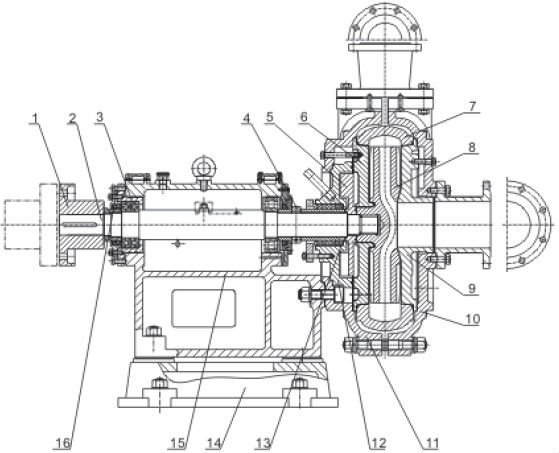 | | |
| --- | --- |
| 1. Coupling | 9. Front guard board |
| 2. Shaft | 10. Front pump casing |
| 3. Bearing box | 11. Rear pump casing |
| 4. Disassembly ring | 12. Stuffing box |
| 5. Expeller | 13. Water seal cage |
| 6. Rear guard board | 14. Base |
| 7. Volute | 15. Bracket |
| 8. Impeller | 16. Adjusting screw |